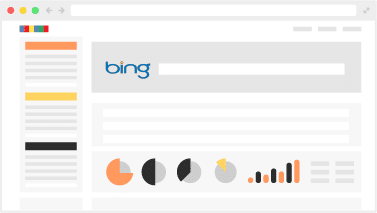 If less than 100 percent of searches happen on Google, why focus 100 percent of your PPC campaign there? Bing's share of the search market has grown over the last three years, with just under 20 percent of all searches going through Bing.com. This growth in market share leaves businesses with PPC opportunities often overlooked in AdWords-only campaigns.
Google might capture the lion's share of search traffic, but people search Bing 3.3 billion times per month. There is plenty of untapped PPC potential within those searches, meaning savvy businesses can capture new leads and conversions while others continue to neglect Bing's high-volume search.
PushFire can get you started using Bing PPC services, or overhaul your current campaign. With ad creation, optimization, and management services, PushFire can help you get the most out of your search advertising on Bing. PushFire is also a part of Bing's remarketing beta program.
What's included in PushFire's Bing Ads Management Service?
Keyword Discovery and Selection
Ad Text Creation
Help with Optimizing Landing Pages
Conversion Tracking
Call Tracking
Ad Submission
PPC Monitoring
PPC Cost Management
Campaign Improvement Modification
Competitive Research
Landing page development and improvements (as an additional service)
Deliverables
Every month we create reports to demonstrate your Bing campaign's success. We report on keyword performance, clicks, impressions, and conversions. After you review the report, we offer a one-hour call to discuss the campaign, including new directions, and will answer any questions you might have.
Pricing
Every campaign is different, so it's impossible to quote a one-size-fits-all price. The price of the service will vary depending on your keyword volume and monthly spend.
How to hire PushFire for Bing Ads Management
If you're interested in our Bing Ads Management Services, please contact us to check our availability and receive a free quote.